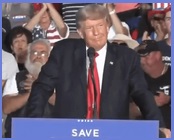 RSBN Network


Saturday July 2nd 2021.
Bypass censorship by sharing this link.
🔥 President Trump Florida Rally 🔥
Watch: Video [1:46:59]
In spite of all the crap that seems to be happening, here's wishing you all a happy 4th in celebrating the greatest country still remaining. Pray to God that we can retain it.